Trust Bendy White Flexible Mullen Full Cheek
---
Trust Bendy White Flexible Mullen Full Cheek
£91.50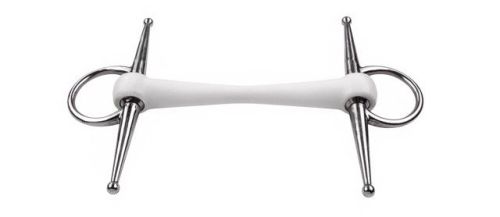 A smooth, slightly dog boned in shape but very flexible mouthpiece with neat cheeks which correctly flair out at the top.
Available only in metric sizes 12.5, 13.5 and 14.5. 12.5 to order.
Trust Flexi Soft Full Cheek

The flexible mouthpiece is designed for horses with sensitive mouths, as it is extremely gentle to the horse's mouth and tongue.

The plastic is FDA Approved and non-toxic. These bits are crafted using a Stainless Steel interior core making them reliable and safe. Trust Flexi Bits are available with different sidepieces such as loose ring, eggbutt, baby pelham and many others. The bits can be recognised by the TRUST logo on both sides of the mouthpiece. All TRUST bits are hand-crafted in the Netherlands.
Full Cheek
Flexi soft
Thickness: 20 mm